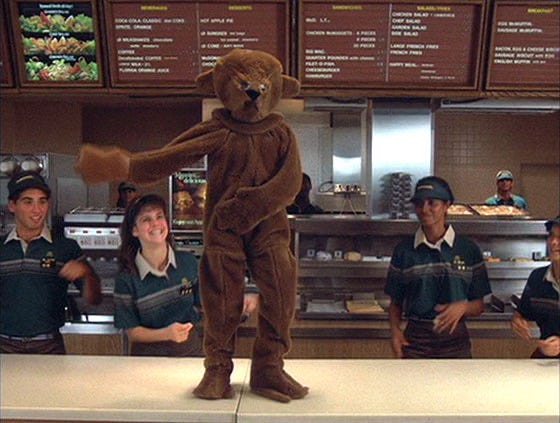 I'm going to level with you. I didn't actually know who J Balvin was until he got his McDonald's meal. I knew "I Like It" because I had gone places in public before that was not allowed. Mostly it was one of those songs that instantly transports me to the check-in line at a Las Vegas hotel where I'm staying for work. But I didn't know he was involved.
I became aware of him because of his promotional tie-in with McDonald's, where he not only got a special meal (a Big Mac, fries and an Oreo McFlurry), but got this insane promotional store where a T-shirt costs you a small fortune. Travis Scott got the same treatment, but to get his "order" you had to tell the person working for a criminally low wage that "Cactus Jack sent" you, and they'd have to play along with the charade before giving you a regular burger but with like bacon on it or something. Like Balvin, Scott got a huge merchandise haul, too.
This surely will not be the last artist tie-in McDonald's does. It's not like artists can tour right now, so they're looking for any reason to huck T-shirts without having to sell them at venues (which you can support by clicking here). Before McDonald's goes any further, I wanted to offer my own input about who they should work with next and what the meals will look like. My day job requires me to research marketing campaigns and promotional tie-ins every day, so I'm something of an expert at this point. If they want to give me credit when they use my ideas, that's up to them.
1. Carly Rae Jepsen
There's no code word for this one, like with Travis Scott. To get the Carly Rae Jepsen meal, you just have to be a dude around the age of 30 (give or take a few years on either end), and be just a little too excited about CRJ. You have to like much more than "Call Me Maybe." It is a breakfast sandwich with Canadian bacon. Get it? Cause she's Canadian?
2. Lenny Kravitz
Finally, McDonald's is making the hot dog a mainstream menu item. And, my friends, let me tell you …
It is enormous.
3. Rage Against the Machine
This one is a little tricky. You can only get the Rage Against the Machine meal by telling them that you actually want the Limp Bizkit meal.
At this point, the employee behind the register will climb the facade of the building and retrieve your meal. It will come wrapped in a pamphlet about Bush-era atrocities.
4. Moby
McDonald's will finally get on the Impossible Burger train to appease the extremely vegan Moby. Not only is the Moby meal vegan, it completely lacks any real flavor. It also comes with a leftover toy of Natalie Portman's character from the 1999 promotional campaign of Star Wars Episode I: The Phantom Menace. Miss Portman did not ask to be involved with the Moby meal, but Moby swears she did.
5. Henry Rollins
Usually for these meals, you're the one who does the talking. You have to tell them that so-and-so sent you or say some magic phrase to access the secret menu. Not for this one. The employee will start talking directly in your face the second you step up to the register, and will hand you a burger on a stack of Henry Rollins' books. The burger is wrapped in a plain black T-shirt. That is yours to keep now. The employee will also yell at you as you leave about how they do not own a TV nor do they have any active social media presence.
6. Evanescence
Comes with 5 coffees, but they're all decaf.
7. 'Weird Al' Yankovic
Not a whole lot of jokes here, honestly. It's also an Impossible Burger, but it has regular cheese on it. Weird Al is mostly vegan but, like so many of us flawed but well-meaning humans, slips from time to time and will have a slice of pizza or something. He doesn't beat himself up over it, and neither should you. It comes wrapped in a Hawaiian shirt-themed wrapper.
8. Alanis Morissette
It comes with 10,000 spoons, but all you needed was a knife. To get this, you have to tell the McDonald's employee that Dave Coulier sent you.
9. Fleetwood Mac
This one's tricky, because there are actually two Fleetwood Mac meals. When you order it, you have to show the employee your phone. If you have Tik Tok and/or you cannot name more than two members of the band, they hand you a half drunk bottle of Ocean Spray cranberry juice. If you do not have Tik Tok and you know anyone in the band, you get the actual meal, which is six different menu items that sound like they'd go well together but actually hate each other most of the time.
10. Meat Loaf
It's a Filet-O-Fish.
Got any ideas for others? Hit me.
Was this my greatest writing achievement? I hope not. But sometimes you just need to write through not wanting to or having any actual ideas, and hopefully you had fun reading. For more (and better) things in the future, consider subscribing and telling your friends to do the same.
---
Today's Snakes and Sparklers musical guest is Cloud Nothings.